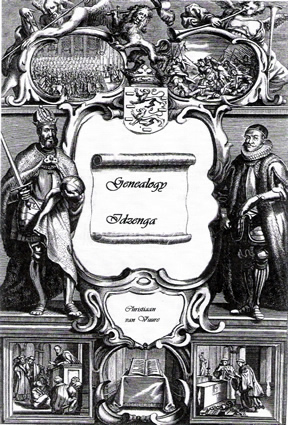 The gift of information on this site is based on years of research, correspondence, phone calls, travel and memories of my mother, Margaret Sharman McCallum Idzenga.
Special Thanks to:
Christiaan van Vuure for his research on van Vuure and Idzenga lineage;
Richard Sharman for his work on the Sharman family tree;
Brande Whittle for the Dingwall information.
Where does Idzenga come from?
The ancestors of this Idzenga lineage stem from Ids Pieters from Sexbierum (Barradeel), Province of Friesland, Netherlands. The register kept by the Reformed Church of Sexbierum show that Ids Pieters and Antje Coerts had their last proclamation on 29 March 1629 when they have been officially married and baptized at Pietersbierum thus entering the Dutch Reformed Church from being former Baptists.
The villages of Sexbierum and Pietersbierum are located in the Dutch province of Friesland, in Barradeel. This is a municipality on the North sea, north of the magnificent old town of Franeker.
The Idzenga family has lived for 250 years in this rural area, initially practicing mixed farming and later as crop farmers and shopkeepers.
In 1691, Ids Pieters and his wife Sjouck Jans left Menaldum for Welsrijp. There, they lived with their children in Westerend. After the early demise of his parents Pieter Lieuwesand Antje Jans, Ids Pieters left for Tzum where his father's mother lived. There he married, he worked and he died. After his demise, the Emperor Napoleon ordered by a decree issued on 1 August 1811 (at that time Holland was temporarily ruled by France) that the inhabitants of Friesland should have a family name officially registered. On 3 January 1812, Geeltje (or Giltje)Haitzes chose for herself and her four sons and two daughters the family name of Idsinga. So in this case this Frisian patronym means son or daughter of Ids.
Emperor Napoleon ordered by a decree issued on 1 August 1811 that the inhabitants of Friesland should have a family name officially registered.
Idsinga - Idzinga - Idzenga - Edzenga - Edzinga - Edsenga
In 1812, Jan Idsinga (Ids Pieters' son) was officially given the family name of Idsinga. Because of a mistake by the registry, he got married by the name of Idzinga whereas he himself signed his marital contract as ... Idzenga!
Upon his birth in 1821, Ids Jans Idzinga was registered by his father as Idzinga. Hence in 1845 he married by this name in Franekeradeel but he signed the marital contract as Idzenga. His children eventually received the family name of Idzenga. Sijbren and Trijntje with their children lived for a long time in Tzum. Shortly after the birth of their 8th child, about 1883, they left for Bergum (Tietjerksteradeel) Netherlands and three years later they showed up in Harlingen. In November 1887 they left the province of Friesland and chose Amsterdam as their new residence.
Another distortion of Idzenga occured in 1886 where the children of Sjoerd Idzenga and Attje Kuiper were registered as Edzenga. It was this family that saw the Idzenga/Edzenga family appearance in the Michigan area of the USA. Sjoerd's son, Albertus Edzenga introduced yet another distortion starting in 1898 with the birth of his two children. The name Edzenga was distorted to Edzinga. Albertus' grandson George Edzinga also introduced a change in the name starting in 1925; his children have the last name of Edsenga
In 1905, another error caused the name Idzinga to appear. Ids Douwes Idzenga and Jantje Sygersma had a son, Douwe on 5 June 1905 whose name was mistakenly registered as Idzinga vice Idzenga, his siblings' name.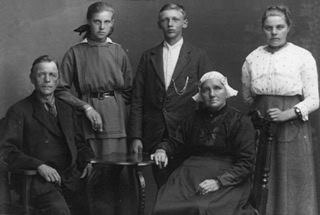 E

xplore the rest of the story. Click here to enter my genealogy database of over 3000 individuals dating back to the 1600s. More popular family names include Aitken, de Boer, Dingwall, McCallum, Cameron, Heerema, Idzenga, de Vries, van Vuure
is the web's leading on-line collaborative genealogy application. It is open source software. It works from standard GEDCOM files, and is therefore compatible with every major desktop application; and it aims to be efficient and effective by using the right combination of third-party tools, design techniques and open standards.